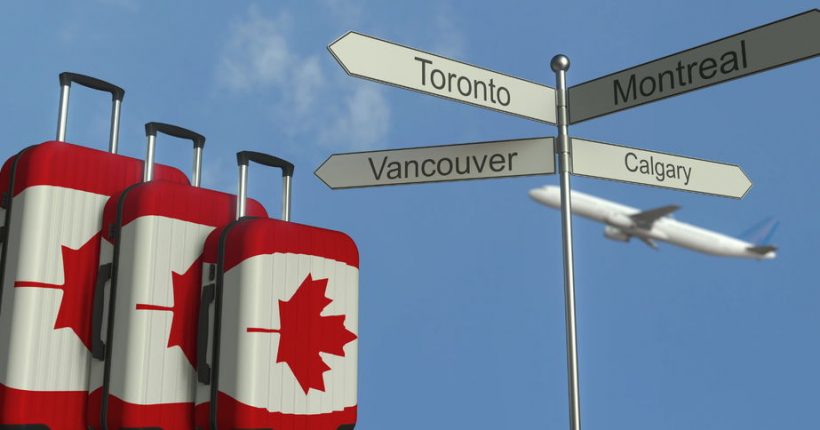 EXPRESS ENTRY
As a foreign national, If you plan is to migrate to Canada as a skilled worker under the permanent residency program, one of the most popular immigration options is through the express entry
Express entry is a point-based comprehensive ranking system in which selectees are usually selected periodically among the pool of thousands of applicants to apply for permanent residence.
HOW DO I QUALIFY FOR THIS PROGRAM
All potential applicants must meet certain criteria under the various skilled worker programs to be considered under the express entry. These skilled worker programs under the express entry in which applicants must meet the minimum general requirements are Federal Skilled Worker, Federal Skilled Trade, and Canadian Experience Class. 
To qualify under the express entry, you must meet the following criteria;  Canadian or foreign education ( Foreign certificates must be assessed by a Canadian authorized body), work experience, and knowledge of a language which could be English, French, or both and some other criteria. Once the applicant meets these general requirements, interested candidates can create their express entry profile to be among the pool of candidates. Applicants that do not meet the minimum requirements of any of these three programs, cannot create an express entry profile.
​
Points are awarded based on a comprehensive ranking system under Core Human Capital, Spouse or Common-Law Partner factors, Skill Transferability Factors, and Additional Points. These four factors have a maximum point of 1,200. Apart from the scores of Candidates, the tie-breaking rules are also applicable to determine the selectees with high points who are within the announced government biweekly cut-offs and are issued Invitation to Apply (ITA) for further processing which begins a new milestone towards achieving your Permanent residence status.
TIPS
Contact us for a comprehensive assessment. There are over 60 legal pathways to migrate to Canada, we will be glad to explore all options available with you. Book a consultation with us to determine the program that best suits you.

Never be discouraged with a lower language score! There's always room for improvement if your language scores are low, there are You can do it! Language assessments can always be improved. Do not get demotivated if your language scores are lower. There are countless free youtube language training that could help you to improve your score.

Be proactive, make all required documents available on time. Failure to submit when needed could have affected your application negatively

Carefully, review your application before submission to avoid unnecessary mistakes that could cause you a 5 years ban for misrepresentation.
WHAT IS THE PROCESSING TIME?
Our government goal is to work within six months processing timeline upon completing and submitting error-free electronics applications after receiving an invitation to apply from Immigration, Refugees, and Citizenship Canada.
 Schedule your Consultation today to explore your options 
Canadian Express Entry Class (CEC)
This is managed under the express entry. These are for candidates that have worked in Canada with a minimum of 1-year work experience in 3 years before applying. This work experience must have been authorized and doesn't need to be continuous. Work experience must be NOC 0/A/B. The language test is mandatory which could be at CLB 7 for NOC 0/A and CLB 5 for NOC B.
Work Experience: Quebec work experience counts. Work experience gained during full-time student (such as co-op work term) doesn't count. Self-Employed doesn't count. Work undertaken while awaiting refugee decision doesn't count.
Proof of funds is not required.
No educational requirement for CEC.
Candidates are advised to act quickly as a number of intakes under this program is controlled by instructions of our immigration minister and changes frequently occur without notice.
Federal Skilled Workers (FSW)
This is one of the popular immigration programs to Canada admitted through the express entry system. Every year this category has the highest allotted numbers among eighty plus immigration programs administered in Canada.
Candidates are assessed on six major factors. These factors are age, education, work experience, language, arranged employment, and adaptability. In order to qualify under this program, a candidate must score 67 points out of 100.
For the language, you need a minimum of CLB 7 in all modules. The acceptable language is IELTS General Training or CELPIP for English Language and TEF or TCF for French.
For work experience, the applications being considered are NOC 0-Managerial Occupations, NOC A-Professional Occupations, and NOC B-Skilled Technical Occupations which must be 1-year continuous Full-time position or Part-time (15hrs/Week) of 2 continuous years in the last 10 years.
The score is awarded under the age factor with 18-35 years earning 12 points, 36 years earn 11 points with decreasing order in points as the applicant gets older.
Proof of funds for the principal applicant and accompanying or non-accompanying family member is required. Additional points can be earned for spouse or partner's language level or study or work in Canada. Point is earned if the applicant or spouse has relatives (parents, grandparents, aunt, uncle, niece, and nephew) in Canada.
Arranged employment gives an additional point if the applicant works in Canada under a temporary work permit or currently work in Canada under LMIA exemption or have a job offer from a Canadian employer.
Candidates are advised to act quickly as the number of intakes under this program is controlled by instructions of our immigration minister and changes frequently occur without notice.
Federal Skilled Trades Class (FSTC)
This is another program managed via the express entry for those that qualified in the skilled trade after January 1, 2015. To qualify for this class, you must have a full-time job offer that is LMIA based from a Canadian employer or have a certificate of qualification issued by a Canadian provincial or territorial body.
Work experience doesn't need to be continuous but must be a minimum of 2 years full-time in the last 5 years acquired after qualifying to practice such trade skills.
The language requirement is CLB 5 in Speaking and listening, CLB 4 in writing and reading either in English or French.
The qualifying trade groups:
Major Group 72: industrial, electrical, and construction trades.

Major Group 73: maintenance and equipment operation trades.

Major Group 82: supervisors and technical jobs in natural resources, agriculture, and related production.

Major Group 92: processing, manufacturing, and utility supervisors and central control operators.

Minor Group 632: chefs and cooks.

Minor Group 633: butchers and bakers.
Note: Intent is critical here as you cannot reside in Quebec.
Candidates are advised to act quickly as the number of intakes under this program is controlled by instructions of our immigration minister and changes frequently occur without notice.